Pray,
"Lord, Quicken Me"

Bible verses reveal instructions saying; " quicken thou me according to thy word." The Word of God is given that we might learn God's will.
Without God calling us first we cannot not know the personal living God. If you love God it's because He first loved you. (1 John 4:19)
If you are reading this page, God brought you here, you have been called. As you give God your free will He will work on your behalf.
What does 'quicken me' mean?
In the Hebrew, it comes from the root 'chayah (khaw-yaw)' to live, whether literally or figuratively; causatively, to revive; keep (leave, make) alive, certainly, give (promise) life, surely, be whole.
So from the Hebrew when you ask the Lord to 'quicken me' you are asking God to make you alive, revive you, keep you alive, certainly give the promise – surely be whole. The prayer, "Lord quicken me" is a prayer of agreement with God who says He will surely activate or cause to happen whatever the Word of God says should happen.

Ask and you Shall Receive

Ask God to... "quicken you, as it is written...Ps 80:18 So will not we go back from thee: quicken us, and we will call upon thy name. O Lord God of hosts, cause Your face to shine; and we shall be saved.Ps 80 KJV. Continuing in Ps 119; 28 -29 ... "encourage me by your word. Keep me from lying to myself; give me the privilege of knowing your instructions."
All of God's promises, all of our victories can only come to pass as we rely on God to do it in us. That's having Faith in God or we could say, "in God have Faith."
God teaches this principle through out the Bible. It is God who causes us to live. He is the giver of life. Just as you did nothing to cause yourself to be born but it was God who caused the sperm and egg to form your body (without your help) so to God brings to pass the regeneration into the born again man.


Quicken Us to Walk in the Spirit
You could say to walk in the Spirit and not the flesh is when God is our motivator. We die to self and live unto God when we walk in the Spirit. For example in a vehicle, God would be the motor including all the moving parts and we are the dead frame that can't go anywhere without the motor. The motor gives life so to speak then moves the vehicle like God moves us. God quickens us, He gives life to us.
When we walk in the Spirit not in the flesh it's God who works in us to do His good pleasure. All other works we do are works of the flesh good or bad. Again, All other works we do are works of the flesh good or bad. It is a good thing to die to self and live unto God.
As you read the Word of God notice who is the motivator...
Ps 143:8-144:10,11,12
Cause me to hear thy loving kindness in the morning; for in thee do I trust:
Cause me to know the way wherein I should walk; for I lift up my soul unto thee.
Deliver me, O Lord, from mine enemies: I flee unto thee to hide me.
Teach me to do thy will; for thou art my God: thy Spirit is good;
Lead me into the land of uprightness.
Cause me, deliver me, teach me, lead me etc... It is God who does the work. It is written...He began a good work in you and He will finish it. For God to quicken you is just the opposite of "Performance based spirituality".
Performance based spirituality is believing you are spiritual based on your performance. Performance based spirituality is works based religion, it is legalistic and it is walking in the flesh. Seems like the harder you try to keep the law the worse you fail.
Frustrated? - Surrender
By the prayer, "quicken me Lord", you are surrendering your 'will' to God according to Gods Word. God is not pushy. He is very patient. When we try to be the 'good' religious person we think we should be and fail, we get frustrated. Our patient Father in Heaven will wait until we finally give up trying to do things on our own and turn fully to Him.(relying only on Him).
When we surrender to Him He is more than willing to finish what He started in you.
God only works within His Laws. And He is the only one who can keep them. The whole Universe is governed by Laws that God has put in place. When we learn about the different laws we can better understand God and how He works. There is for example the law of the mind. God gave you a free will and will not violate your free will.
Our prayer, "quicken me Lord," gives God the legal right to move on our behalf and surely cause us to be whole.

Bring my Soul out of Trouble
Ps 143:11+12 says, " Quicken me, O Jehovah, for thy name's sake: in thy righteousness bring my soul out of trouble. And in thy loving kindness cut off mine enemies, and destroy all them that afflict my soul; for I am thy servant." ASV
The Bible verses in the New Living Translation puts Ps 143:11-12 this way; For the glory of your name, O Lord, preserve my life. Because of your faithfulness, bring me out of this distress. 12 In your unfailing love, silence all my enemies and destroy all my foes, for I am your servant.
God gets us out of trouble. He fights for us against our enemies that afflict our soul. We all have soul wounds that God wants to heal. As we give our self to Him as His servants God can fight for us. With your will you allow God to put a fire in you that makes you a seeker of God.
Then you go after Him with all your heart Not by power or by might but by His Spirit. You will gain insight and revelation in Gods Word.;
Ps 119:25-27 "My soul cleaveth unto the dust: quicken thou me according to thy word. I have declared my ways, and thou heardest me: teach me thy statutes. Make me to understand the way of thy precepts: so shall I talk of thy wondrous works." KJV
Ps 119:36-41 "Incline my heart unto thy testimonies, and not to covetousness. Turn away mine eyes from beholding vanity; and quicken thou me in thy way. Stablish thy word unto thy servant, who is devoted to thy fear. Turn away my reproach which I fear: for thy judgments are good. Behold, I have longed after thy precepts: quicken me in thy righteousness. Let thy mercies come also unto me, O Lord, even thy salvation, according to thy word." KJV
The same Bible verses but in the New Living Translation;Ps 119:36-40 'Give me an eagerness for your laws rather than a love for money! Turn my eyes from worthless things, and give me life through your word. Reassure me of your promise, made to those who fear you. Help me abandon my shameful ways; for your regulations are good. I long to obey your commandments! Renew my life with your goodness.' Only God through His Grace can do this in us.

The Promises of God
There are many promises to the believer given in the midst of this dark world we live in. The Word of God sheds light on how it is possible to receive the promises of God as it is written... Ps 119:104-105 "Through thy precepts I get understanding: therefore I hate every false way. Thy word is a lamp unto my feet, and a light unto my path."
Ps 119:87-93 KJV 'They had almost consumed me upon earth; but I forsook not thy precepts. Quicken me after thy loving kindness; so shall I keep the testimony of thy mouth.' (The Lord does it!)It is the Lord that gives us the ability to accomplish His Word. He is the motor that moves us. God causes it, all glory belongs to Him.
For ever, O Lord, thy word is settled in heaven. Thy faithfulness is unto all generations: thou hast established the earth, and it abideth. They continue this day according to thine ordinances: for all are thy servants.
Read how the Message Bible Translates these Bible verses; Ps 119:89-91 What you say goes, God,and stays, as permanent as the heavens. 90 Your truth never goes out of fashion; it's as up-to-date as the earth when the sun comes up. 91 Your Word and truth are dependable as ever; that's what you ordered — you set the earth going.
Ps 119: 92 ASV Unless thy law had been my delights, I should then have perished in mine affliction.93 I will never forget thy precepts: for with them thou hast quickened me." (Ps 119:92)New Living Translation 92 'If your instructions hadn't sustained me with joy, I would have died in my misery. '93 I will never forget your commandments, for by them you give me life.
Jesus Be my Guiding Light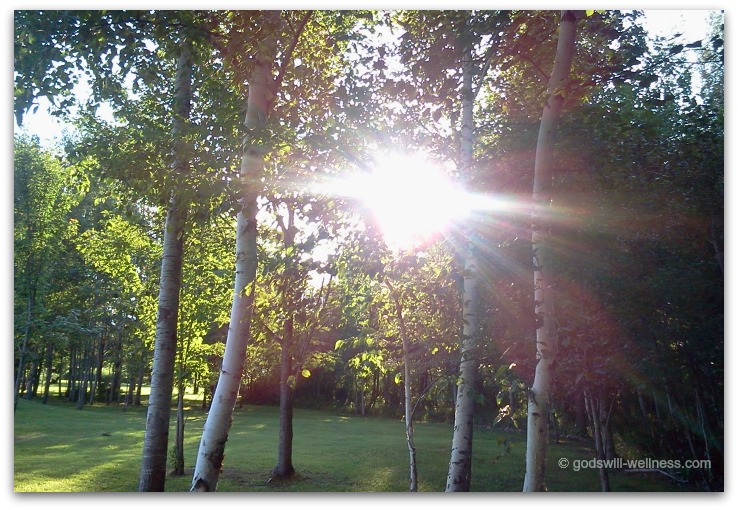 Law of God
God gave us His Law to point us to Jesus. To show us the perfection of God that only can be ours through the righteousness offered to us only through the cross and believe on the only begotten of the Father, the Lord Jesus Christ.
The theme of the whole Bible from Genesis to Revelation can be summed up in these two Laws; Love the Lord your God with all your heart soul and mind and love your neighbor as yourself. We can not accomplish this in the flesh. We can only do this if we rely on God alone to accomplish it in us.
God gave us all a normal physical life. But the will of God for us is a quality of that life that is more abundant than normal. It's a God kind of life living and walking daily with God. Gods will is that we have life and life more abundantly.
"We love Him because He first loved us."(1 John 4:19)
Angel Messenger


Spiritual Warfare Weapons - Healing Crises

God Help Me Inspirational Scriptures

Forgiveness only God can do in you

Christian Prayers Bible Verses

Back To Christian Prayers from "Lord, quicken Me"

If you liked this page, go ahead, share it with others...

(Search results have targeted ads from Google not from this site.)
Search This Site with this Tool...
GodsWill-Wellness Site Search Tool:
Custom Search