Taking the Leap Of Faith
In God Have Faith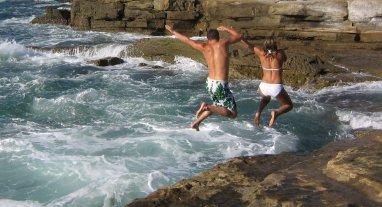 Learning how to take the leap of Faith; In Matt 14:28-31 The disciple Peter said to the person he saw walking on the water, "Lord, if it is You, command me to come to You on the water." So Jesus said "come". Peter focusing on Jesus had faith to walk on water. But after he turned his attention to the circumstances around him Peter then began to sink.
Jesus said, "O you of little faith, why did you doubt?"
You could say Peter took a leap of Faith when he jumped out of the boat and began walking on water. Peter, an imperfect man, walked on water like Jesus did.
Ever wonder how Peter had the Faith to do that? It seems so huge when you think about it yet Jesus said, "O you of little faith". Jesus was saying, O you of short duration of faith. Peter had to have had great Faith to Walk on Water, but only for a short time.
Double-minded man,
Unstable in all his ways.
We can choose to believe Bible verses using our free will and minds to cognitively accept the Scriptures as Truth. But if we have any doubt within us that the Word of God will really come to pass "for us", then we are double minded and are holding two beliefs at the same time. Our Leap of Faith will then be hindered.
For example; we know that Bibles verses say that God will supply all our needs but what is our reaction should we loose our job? Would we be able to take a leap of faith and believe the promises of God's supply when the storm of circumstances all around us screams no?
If we believed without doubting the result will be a feeling of peace – but if we should react with worry or fear then there is a problem with our belief, we are double minded, we are doubting.
James 4:7-10 says, "purify your hearts, you double-minded." And Acts 15;7-10 tells us how, ... "purifying their hearts by faith."
Faith is a substance. When you mix Faith with pure belief without doubt it becomes the catalyst that brings what we hope for into the natural realm of existence. Our emotions reveal to us what our inner belief is, what we really believe in our heart. The Answer lays within the question,...'Do I have Peace'?
How is it Possible?
How can we take the leap of Faith and walk "in faith," without any doubt? How is that possible? Can we accomplish this with the power of our will? And how do we get the courage to take a leap of faith when fear surrounds us?
All things are possible to him who believes. We begin the process by choosing with our free will to believe God's Word in our mind. Checking your emotions will reveal to you what you believe in your heart. Getting our emotions to line up with our chosen belief is where the problem usually comes in.

Jesus said, "Do not be afraid; only believe". So we have the capability of believing. God gave us our free will so we can choose to believe.  But what about Faith?
"Thee Measure of Faith" is given to us all. We have the very Faith of God placed inside of us by God. That substance we call Faith, we have already, it's inside of us.  BY FAITH we can believe from our HEART without doubt.
Do we work to get great Faith or do we believe that God has given us that measure of Faith and allow God to do all the work?   The Word of God says in Heb 12:2 (and this is the missing key)... "looking unto Jesus, the author and finisher of our faith," NKJV .
Looking unto Jesus,
the Author and Finisher of our Faith

Think about that a minute.....looking to Jesus who is the Author And the Finisher of our Faith.
Jesus is the author, the maker, the creator of our faith. He starts it and finishes our leap of Faith. It's not about what we do but what we allow Him to do in us.
In Acts 3:16 it says,... " Yes, the faith which comes through Him has given him this perfect soundness in the presence of you all.
As it is written, "Faith comes by hearing and hearing by the Word of God" or as in Greek, "the Word of Christ". The Word is Jesus. You could say, Faith comes by hearing and hearing it by Jesus. Faith comes by hearing the voice of Jesus. We must listen within our heart for His voice. Peter heard the voice of God and walked on the water.
Look to the Word of Christ to produce Faith in you enabling you to take the leap of Faith. Like Jesus as the son of man said, He only does what He sees the Father doing. Jesus was following the instructions of the Father. Jesus mixed pure belief with the Faith that was in Him and it produced miracles.  So we also follow the instructions of the word of God. Follow his voice. And trust Him to finish the work inside of us.

The Word of Christ speaks of the Good News of the Saving Gospel of Grace. Faith comes by hearing and hearing it again and again and again and again and again ...Meditate on the Word of God.

God's instructions;
Do Not Be Afraid - Fear Not
In Matt 14:27 Just before Peter walked on the water, Jesus spoke to His disciples and gave them instructions saying, "Be of good cheer! It is I; do not be afraid."
Peter did not fear, at first, when he heard the Word from Jesus and his eyes were fixed on Him. But when Peter took his eyes off Jesus and put them on the circumstances around him, fear came and submitting to that fear Peter began to sink. Peter immediately cried out to Jesus and God is always there to rescue.
When you fear you are not trusting. To be afraid can be described as to be anxious or apprehensive, panicked, alarmed or dismayed. The enemy temps us with fear as a weapon trying to steal our trust in God. The temptation to fear can be overwhelming and if we submit to that fear it will cause doubt. Belief plus fear equals doubt producing double mindedness.

When we submit to God rather than fear, we are giving over to or yielding to the power and authority of God. Synonyms to "submit" is to comply, bow, obey, agree, resign. We are to submit to God and resist the devil.When we agree with God's Word we are submitting to God. Then we must resist fear.

To resist means to withstand, strive against, or oppose: to refrain or abstain from —Synonyms to "resist" would be to confront, counteract, rebuff.
James 4:7-10 says, "Therefore submit to God. Resist the devil and he will flee from you. Draw near to God and He will draw near to you."
The Lord tells us not to doubt in our heart. Fear causes doubt but there is no fear in love; but perfect love casts out fear. God is perfect love and His good news is Grace. The demonstrations of His Love in action is the Gospel of Grace.
He who abides or lives in God abides in love. Drawing near to God causes Him who is Love to draw near to us thereby casting out fear which removes doubt from our heart.
God does not leave us alone to resist fear. Jesus is the answer for He Himself is our helper. Heb 13:6 "The Lord is my helper; I will not fear.
Again the answer is the same, cry out to Jesus to save you in whatever circumstance you find yourself. After Peter began to sink because of fear he cried out, saying, "Lord, save me!" And immediately Jesus stretched out His hand and caught him,
Lord, I believe;
help my unbelief!;
More Bible Verses;
In Mark 9: 21-24 A Man came to Jesus who needed a miracle, his son was tormented with convulsions. Jesus said to him, "If you can believe, all things are possible to him who believes." Immediately the father of the child cried out and said with tears, "Lord, I believe; help my unbelief!"
The man was willing to believe the Word of God. He submitted his will to Jesus and confirmed that willingness by his prayer. And speaking out loud using positive words he said,"Lord I Believe". Then he immediately leaned on Jesus to bring it to pass saying, "Help my unbelief".
He did not trust himself to believe with no doubt but rather trusted the Word of God -Jesus. "IN God"He had Faith.
When we go through desperate situations in life we will face fear head on. Fear will steal our faith if we don't resist it and submit to God. This man in his desperation cried out for help with tears fixed his eyes on Jesus and asked Jesus to accomplish it within him. This man's cry for help was his answer to be able to take the leap of Faith and he received his miracle.
Peter also was able to take a leap of Faith as he believed 'The Word' and focused on Him. Peter heard The Word of God speaking, "Come". When his focus shifted off Jesus he began to sink then turning back cried out to Jesus, "Save me"!
IN God was his Faith to be saved.
Have Faith in God not your own abilities.
This is how to take the leap of faith!

Take the leap of faith straight into the arms of Jesus!
The heavy burden of bringing it to pass is not on you! His yoke is easy and His burden is light, lean on Him. Let Him carry you. Say,"Lord I believe help my unbelief".
We must rely on Him knowing He will bring His will to pass -this is key.
RELY on Him  Knowing He will Bring
His will to pass

As we rest in Him the peace of God that is beyond understanding will come to us. Our emotions fall in line with our choice to believe as our inner heart beliefs with no doubt as we stand in Jesus, His Name is His Person. As we stand in Christ, the anointed One and His anointing.
Faith to take the "Leap of Faith" comes as we lean on the Prince of Peace. IN Christ we can do all things. For in Him we live and move and have our being.

To remember this principle maybe instead of saying,"Have Faith in God" we might say it, IN GOD have Faith, clearly reminding us how Faith works, In God, who really is the author and finisher of our faith.
Take the Leap Of Faith


IN GOD Have Faith
Angel Messenger


Answered Prayer A Healing Miracle

Jesus' example of relying on the Father

Back To Home Page from Taking the Leap of Faith
If you liked this page, go ahead, share it with others...

(Search results have targeted ads from Google not from this site.)
Search This Site with this Tool...
GodsWill-Wellness Site Search Tool:
Custom Search