Christian Beliefs
Christian beliefs are teachings of Jesus Christ, Son of the Living God, King of the Kingdom of Heaven. Jesus came to earth and taught us with His words and His life what the Kingdom of God was all about. He showed us how we can live, talk, even think to become the very best we can be.
His teachings tell us what we must believe to live for eternity with God. The person of Jesus Christ is 'Truth' itself.
Basic Christian beliefs are simple and can be found written plainly in Bible Scriptures. Christian beliefs are also profound. They deepen with maturity and will change you from the inside out. Whatever you really believe will profoundly effect your whole life body, soul and spirit.
Christian Doctrines
Christian means "Christ one" one who follows the teachings of Christ (Christian beliefs) with all their heart. But Christian Doctrines are certain Philosophies or schools of thought. They are interpretations of Christian beliefs. Doctrines are not 'Truth' itself but Doctrines can change as more 'Truth'(More of Jesus) is revealed to the believer.
Sanctification is a growing process and if you are willing God will mold you and shape you as the potter does with the clay. God will correct our doctrines as we mature in His Grace.
Throughout the History of Christianity there have been those who have been over zealous for doctrine while being mislead with teachings that are not of God. Misunderstanding of Bible Scriptures have lead to abominations of so called Holy Wars, Crusades, the Spanish Inquisition and even fights among different Church denominations.These were not the will of God but the will of men.

Christian Beliefs will Deepen
As you draw closer and closer to God Christian beliefs mature. Time spent with God opens your understanding. Doctrinal perception of Christian beliefs will deepen and your understanding of Bibles verses could change with maturity from glory to glory as the Lord reveals them to you.
The Word of God is not like any ordinary book that you just comprehend as you read. There are mysteries in Bible verses that must be revealed by the Spirit of God – The Holy Spirit. But the most simplest among us can understand the deep things of God as God chooses to whom He will reveal them.

Jesus The Truth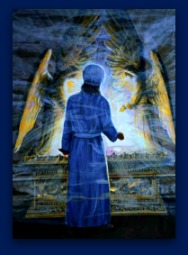 Doctrines are not truth per se – It is Jesus who is Truth! Therefore if you truly have Jesus as your Savior then you HAVE Truth no matter where you are in your maturity of understanding doctrines, Philosophies or schools of thought.
Church denominations may have some differences in doctrinal understanding but if they hold to the core Christian beliefs of Jesus Christ then we are all family.
No church or individual has it all Right! We all have a lot of room to grow in our understanding of God. Doctrines or understanding of certain Scriptures don't save in themselves, but it is the person of Jesus who saves. The Pure Word of God Himself. We are saved by Grace through faith. Having the faith of Jesus is a lot different than putting your faith in your understanding of doctrines.
Attacking and Condemning
Not Our Job

The Bible gives us instructions as seen in Titus 3:2 ... To speak evil of no man, to be no brawlers, but gentle, shewing all meekness unto all men. KJV
 Just because someone doesn't agree with the understanding of Bible Scripture, doctrine or Christian beliefs as others, doesn't give anyone a license to attack or condemn them. It's just not our job.

We, in meekness give instructions that can be enlightening, if it falls on good soil. But the Holy Spirit is not a part of strive or arguing over doctrines. Love the brethren unconditionally and treat everyone with respect.
It is the Holy Spirits job to lead into all Truth. God is the Savior not us. Our brothers and sisters are Gods servants not ours. God works in all our lives in His timing. Just be a Witness of what He has done for you in your life and Love each other as God loves us just the way we are. God will take it from there.
(Leaders must deal with open sin of the brethren as the Bible teaches but that is another subject. Here it's about understanding doctrine and Christian beliefs.)

Have you given God permission to adjust your doctrinal understanding? He is gentle and waits to be invited. We all need tweaking from time to time.

Willing to Die for It
Would you be willing to listen to the Holy Spirit about YOUR understanding on a point of Scripture? Maybe He's been trying to open up some Truth to you about some doctrine you were sure was right? Are you willing to be the clay molded by God the potter and let Him guide you through the fog?
As we mature, God may choose to reveal a doctrinal correction of understanding within your Christian beliefs. The Truth may be different from everything you have believed since you were a child. It may be something you were sure was true, you had absolutely no doubt about it.
It may be something so strong in you that you were willing to die for it.
What will you do if God were to reveal to you that what you have believed all your life was off somewhat or just plain wrong. What if you were wrong in your understanding of scriptures and doctrines you held dear were actually not quite right?
It's not a fun thing to go through. It will take humility to follow the Holy Spirit. Having a willingness to follow God where ever He leads, will cost. You have to be willing to swallow your pride. But if you want to go deeper with God let Him have His way with you.
Follow Him as He quickens your spirit and leads you into deeper Revelations of His Word.There is always more to learn about God.

A scripture you may have read hundreds of times before, suddenly be comes alive. It's like you see it with new eyes as He opens up Bible Scriptures to you who are of a willing heart.
Let yourself be the clay. Let the Master mold you the way He knows will turn out for your good. There is great joy awaiting for all those who open themselves up to God and are willing to follow Him where ever He leads them. Even if it seems uncomfortable or even down right painful at first.
Like a woman in the pain of labor, it's not fun going through the pain of labor. But joy fills her heart as she beholds the face of her new born child. It's all more than well worth it!
Be open to the Lord, be willing to go deeper with Him. Christianity is a growing process.  And Christian Beliefs, His Truth will deepen as you grow deeper in love with Him.
3 John 2 Beloved, I wish above all things that thou mayest prosper and be in health, even as thy soul prospereth. KJV
Angel Messenger
Forgiveness is like a two sided coin

Back To Spiritual Warfare From Christian beliefs

Back To GodsWill-Wellness - Home Page - From Christian beliefs

If you liked this page, go ahead, share it with others...

(Search results have targeted ads from Google not from this site.)
Search This Site with this Tool...
GodsWill-Wellness Site Search Tool:
Custom Search