"Dont Worry Be Happy"
How can you say," dont worry be happy " when prosperity may be elusive during these hard economic times?
Hear a word of encouragement. You may be going through some trials right now but the Word of God will always prove true. You must work the Word for the Word to work.
Comfort from Matt 6:25-26, "Therefore I say to you,("dont worry be happy") do not worry about your life, what you will eat or what you will drink; nor about your body, what you will put on. Is not life more than food and the body more than clothing? Look at the birds of the air, for they neither sow nor reap nor gather into barns; yet your heavenly Father feeds them. Are you not of more value than they?" (Paraphrased - "dont worry be happy.")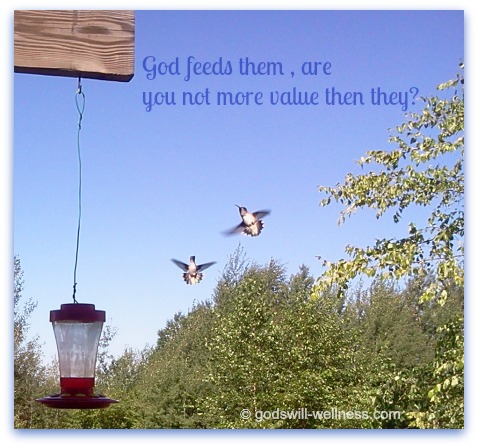 In Luke 12:25-26 it says, "And which of you by worrying can add one cubit to his stature? If you then are not able to do the least, why are you anxious for the rest?" NKJV. ( "dont worry be happy" ) Put all your trust in God.
Phil 4:6-7 says, "Be anxious for nothing, but in everything by prayer and supplication, with thanksgiving, let your requests be made known to God; and the peace of God, which surpasses all understanding, will guard your hearts and minds through Christ Jesus." ( "dont worry be happy" ) NKJV To have peace right in the middle of a crises is supernatural.
Controlling your Thoughts
It may sound funny but think " don't worry be happy " thoughts.
Be guarded about what you allow yourself to think especially when you are going through hard times.
Ask the Holy Spirit to cause your mind to meditate on "whatever things are true, whatever things are honorable, whatever things are just, whatever things are pure, whatever things are lovely, whatever things are of good report; if there is any virtue, and if there is any praise, think about these things." Phil 4:8 WEB
Seek the Kingdom of God and you will grow and Prosper.
Can you change anything by worrying?

( Dont worry be happy: ) "Therefore do not worry, saying, 'What shall we eat?' or 'What shall we drink?' or 'What shall we wear?' For after all these things the Gentiles seek. For your heavenly Father knows that you need all these things. But seek first the kingdom of God and His righteousness, and all these things shall be added to you.
Take it Day by Day
(and don't worry be happy )
Therefore do not worry about tomorrow, for tomorrow will worry about its own things. Sufficient for the day is its own trouble." Matt 6: 31-34 NKJV (again "dont worry be happy")
Now if God so clothes the grass of the field, which today is, and tomorrow is thrown into the oven, will He not much more clothe you, O you of little faith? " Matt 6:30 Have faith in God, trust Him. Over and over it's saying dont worry be happy. These scriptures remind you who you are in Christ and can give you comfort.
Believe in the Lord your God, and you shall be established; believe His prophets, and you shall prosper." 2Chron 20:20-21 NKJV
It is written in Ps 33:18-21 "Behold, the eye of the Lord is on those who fear Him, On those who hope in His mercy, To deliver their soul from death, And to keep them alive in famine. Our soul waits for the Lord; He is our help and our shield. For our heart shall rejoice in Him, Because we have trusted in His holy name. "NKJV
Ps 34:6- This poor man cried out, and the Lord heard him, And saved him out of all his troubles. But How will he deliver you? By you trusting Him and putting His Word to work for you. In other words by you doing what God tells you to do – obey His Word.
Hear what God wants for you in 3 John 2... "Beloved, I wish above all things that thou mayest prosper and be in health, even as thy soul prospers".
This scripture has a key. That is, as your soul is brought up to a higher place in your understanding of the kingdom of God, so to will you flourish in all things and be in health.
Get alone with God.
Anywhere, you can even in your mind go to this peaceful pond and
Meditate on His Word.

Let the God of Peace
have His way in you.
Bible Verses:

Isa 9:6-7
6 For unto us a Child is born,
Unto us a Son is given;
And the government will be upon His shoulder.
And His name will be called
Wonderful, Counselor, Mighty God,
Everlasting Father, Prince of Peace.
7 Of the increase of His government and peace
There will be no end,

God has sent us His own Son who is the Prince of Peace. If you will learn to trust in Him completely, you will find yourself saying... Dont worry be happy. If you find yourself being a worrier, ask God to change you from the in side out.

Luke 2:14
 "Glory to God in the highest,
And on earth peace, goodwill toward men!"
This is God's will for all of us. God is on your side, trust Him and no devil can stop God from helping you out of your troubles.

Acts 10:36-37
The word which God sent to the children of Israel, preaching peace through Jesus Christ — He is Lord of all — 
Jesus is the only way for you to gain lasting peace. He is the Good News.

More Bible Verses:
Rom 5:1-5
 Therefore, having been justified by faith, we have peace with God through our Lord Jesus Christ,  through whom also we have access by faith into this grace in which we stand, and rejoice in hope of the glory of God.
And not only that, but we also glory in tribulations, knowing that tribulation produces perseverance;  and perseverance, character; and character, hope.  Now hope does not disappoint, because the love of God has been poured out in our hearts by the Holy Spirit who was given to us.



Ask Jesus to Lead you
Look around you. Ask God to show you what you do have that could help with your finances. Ask Him to lead you. Ask Him to order your every step. He can orchestrate "chance" meetings, put you in the right place at the right time and can change your situation over night. There is nothing to hard for Him.
Listen for His directions. He can speak through His Word (dont worry be happy)scriptures, circumstances, people, and more. God can speak to you through the small still voice inside of you. Spend time with Him and learn to recognize His voice when He speaks to you.
Jesus said in Luke 6:38 Give, and it will be given to you: good measure, pressed down, shaken together, and running over will be put into your bosom. For with the same measure that you use, it will be measured back to you." NKJV
Blessed is the man Who walks not in the counsel of the ungodly, Nor stands in the path of sinners,Nor sits in the seat of the scornful; But his delight is in the law of the Lord,And in His law he meditates day and night.
He shall be like a tree planted by the rivers of water,that brings forth its fruit in its season, Whose leaf also shall not wither; And whatever he does shall prosper. Ps 1:1-3
Therefore keep the words of this covenant, and do them, that you may prosper in all that you do. Deut 29:9 NKJV And again, 3 John 2 "Beloved, I wish above all things that thou mayest prosper and be in health, even as thy soul prospers".
Angel Messenger
Depression, a Christian perspective
God Help me in time of trouble
Back To Biblical Prosperity From Dont Worry Be Happy
Back To GodsWill-Wellness - Home Page

If you liked this page, go ahead, share it with others...

(Search results have targeted ads from Google not from this site.)
Search This Site with this Tool...
GodsWill-Wellness Site Search Tool:
Custom Search