Share Answered Prayers, Praise Reports and Miracles
Have a Praise Report? Have an answered prayer, or even saw miracles? Here is your chance to let your voice be heard. You could encourage others with the hope that they may not give up.
Add Your story below!
God answers our prayers. The manifestation can be instantaneous, or it can come over time. They can be large or small; all responses to prayers are unique.
What has God done for you or someone you know? Here is your chance to brag about your Heavenly Father. Tell the world how good God is! Let this be a testimony to all the world - God IS alive and well! And He is still a God of answered prayers.
The following is an invitation to you to write your web page about any answered prayer you or someone you know has received. Give the Glory to God and shout it from the rooftops! It's easy, and it's free.
See below what others have said....
Story of Gods Healing. Back from the brink of death...

Click Here to see story of the Miracles;... Doctor said it was One for the record-book Healing )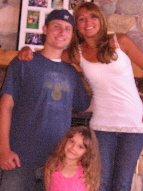 Picture on Left...

Swollen and close to death,
Picture on Right...

Healed and enjoying family.
Praise GOD!

Share YOUR Story!


Praise Reports,
Share any answered prayer.
Be an encourager to others. Let them Know that God answers prayer!

Do you have a great testimony? Share it! They are all great. Your page can become your own web page publish as a part of this web site. Let your voice be heard. Give Glory to God.
What Other Visitors Have Said
Click below to see the contribution stories from other visitors to this page...

Back to Healing Scriptures - In a Time of Crises
If you liked this page, go ahead, share it with others...

(Search results have targeted ads from Google not from this site.)
Search This Site with this Tool...
GodsWill-Wellness Site Search Tool:
Custom Search