Emotional Wellness
Emotional wellness is peace with God. Shalom is the Hebrew word for peace and so much more. It's meaning includes completeness, wholeness, nothing missing and nothing broken and nothing between you and your God.
Shalom is peace to your emotions. When you have peace everything is well with you. God's Peace surpasses all understanding even through difficult times.

Merriam Webster Encyclopedia describe peace as; a state of tranquility or quiet: freedom from disquieting or oppressive thoughts or emotions; harmony in personal relations.
Peaceful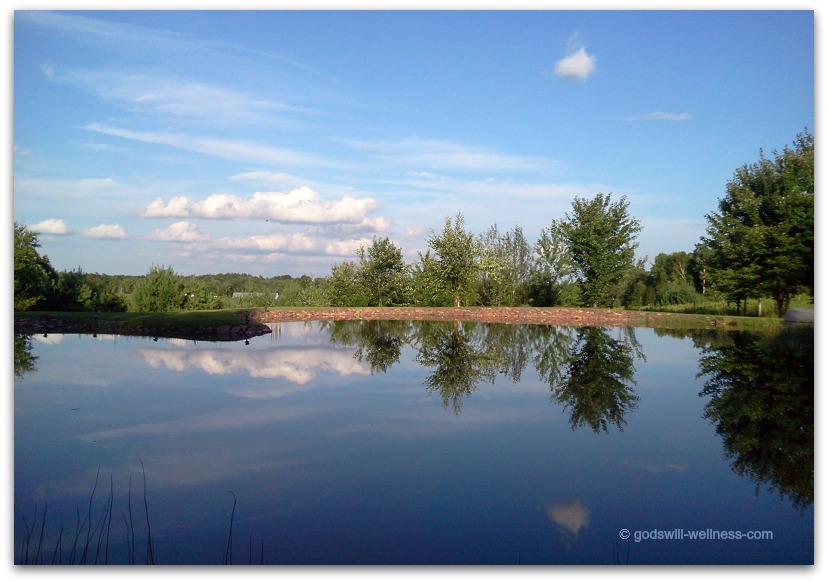 Some times emotions can run away with you. The Message Bible Verses puts it this way in Job 15:12... "Why do you let your emotions take over, lashing out and spitting fire, pitting your whole being against God".
Instead why not let Jesus take over. Jesus came here to bring Peace on Earth. A Christian perspective shows how, emotional wellness will manifest when there is Peace with God.
Phil 4:6-7 Be anxious for nothing, but in everything by prayer and supplication, with thanksgiving, let your requests be made known to God; 7 and the peace of God, which surpasses all understanding, will guard your hearts and minds through Christ Jesus. NKJV

God has made the first move and has offered peace, goodwill toward men. Another familiar Bible verse; ...Luke 2:14 "Glory to God in the highest, And on earth peace, goodwill toward men!"

Peace Offering
We are invited to receive this precious gift from God..... He is the Prince of Peace Himself... He is Jesus of Nazareth. It is Jesus the Christ who is the manifestation of the Son of God on Earth to establish the Kingdom of Peace on Earth.
We have been privileged to get a personal invitation from the God of the Universe, to come in union with Him resulting in a personal relationship with Him.
Emotional wellness can be achieved by receiving Jesus as your Savior from what ever you need saving from. We must Learn how to take advantage of being a child of God. Learn of Him and how He can bring you His peace personally in your situation. He wants to be an intimate part of your life.
If you have not done so before, you can stop now and in your own words invite Jesus into your heart. Invite Him in to be an intimate part of your life. He won't come and force you but He waits for an invitation from you personally. He will lead you into all truth and emotional wellness.

As we live on this fallen earth we all experience emotional pain in some measure. The sorrows even of our emotional hurt have fallen on Jesus at the cross.  He carried them so you don't have to. Jesus is our answer, Bible Verses tell us that Jesus Himself said...
Matt 11:28-30 ...Come to Me, all you who labor and are heavy laden, and I will give you rest. 29 Take My yoke upon you and learn from Me, for I am gentle and lowly in heart, and you will find rest for your souls. 30 For My yoke is easy and My burden is light." NKJV
There is freedom, glorious freedom and victory for overcoming negative emotions and gaining emotional wellness. Freedom is found in resting in Jesus. He has provided powerful God Tools to accomplish this in us.
The Message Bible Verses say it this way,.."We use our powerful God-tools for smashing warped philosophies, tearing down barriers erected against the truth of God, fitting every loose thought and emotion and impulse into the structure of life shaped by Christ.
You can win over the flesh, the pride of life, the world and all the demons in the world. Through the Cross and the name of Jesus Christ and the word of our testimony, forgiveness, peace and so much more.
Luke 1:37 For with God nothing will be impossible." NKJV
Learn how God Himself will break strongholds for your Emotional wellness.
Maintaining
Emotional Wellness;
Prov 4:23-26 says,"Guard your heart above all else, for it determines the course of your life. Avoid all perverse talk; stay away from corrupt speech. Look straight ahead,and fix your eyes on what lies before you. Mark out a straight path for your feet; stay on the safe path." (Bible Verses, New Living Translation)

Emotions drive thoughts like a powerful motor and words can steer thoughts in a certain direction. Everything is connected together and will work in harmony with God's peace to maintain emotional wellness.
We are one person with many members. We are a spirit, we have a soul and we live in a body. Our Emotional wellness is one part of the wholeness that is Gods will for us.
Your soul contains your mind, will and emotions. Your personality, it's what makes up you, that unique and special you. There is no one exactly like you and God Himself is the lover of Your soul. He loves you for who you are.
If you don't believe that, take that thought captive and ask God what He says about it. The Word of God tells you the truth.
The Word of God...Bible Verses;
God knew you even before you were born...
Jer 1:5 "Before I formed you in the womb I knew you; Before you were born I sanctified you; NKJV
Our Emotional wellness will come as we yield to God.

Give God your will, submit to Him and pray...Ps 139:23-24 ... Search me, O God, and know my heart; Try me, and know my anxieties; 24 And see if there is any wicked way in me, And lead me in the way everlasting. NKJV
God wants to heal all your hurts for your Emotional wellness and give you peace.  Jer 29:11-14  For I know the thoughts that I think toward you, says the Lord, thoughts of peace and not of evil, to give you a future and a hope.
12 Then you will call upon Me and go and pray to Me, and I will listen to you. 13 And you will seek Me and find Me, when you search for Me with all your heart. 14 I will be found by you, says the Lord, and I will bring you back from your captivity;   NKJV
Rom 10:13 For whosoever shall call upon the name of the Lord shall be saved. KJV
John 3:16-17 For God so loved the world that He gave His only begotten Son, that whoever believes in Him should not perish but have everlasting life.
1 John 4:9-11 In this the love of God was manifested toward us, that God has sent His only begotten Son into the world, that we might live through Him. 10 In this is love, not that we loved God, but that He loved us and sent His Son to be the propitiation for our sins.
Deut 23:5-6 the Lord your God turned the curse into a blessing for you, because the Lord your God loves you.
Experience God
But it's not enough to just know what the Bible says cognitively or mentally. You can know what the Bible says and still doubt if it will come to pass for you personally. God is the one who conquers double mindedness just like He is the one who kept all the law for us. Lean on Him just as you did for salvation. Find out more how to over come double mindedness.

Sometimes we can read Scriptures and believe they are true but we can have a hard time receiving them for our self personally. We believe cognitively with our mind but we have not had an experiential knowing.

His manifested presence is Experiencing God. God makes Himself real, it becomes personal. God wants you to know Him personally. He is so close to you even right now.   But many times we are not aware of Him.

When we invite Jesus into our heart God comes in the form of the Holy Spirit to dwell inside the believers body. Out of our belly will flow rivers of living water. He is there, in the deepest part of you, that is the heart of man. It's where your gut feelings come from.  It's hard to imagine the God of the Universe dwelling inside our fleshly body. But He has chosen our bodies as His Temple.

Besides the Bible itself, God can speak to us through simple things like thoughts or pictures in our mind. God uses the tool of our imagination to communicate with us.
We can hear Him also through the small still voice or the loud sound of circumstances. Don't put God in a box and think He will only speak to you in some preconceived way. He is God and will speak to you in many different ways as He sees fit.

Don't get religious on me and think you are not good enough to hear from God yourself. He died for you, don't you think he would be willing to speak to you?  He said, My sheep hear my voice. He will speak to you. Ask Him to and expect Him to answer. Ask in Jesus name and He will most assuredly answer you.

When God speaks to you the Word becomes alive! Experiencing God makes Him real to YOU. God's will is to heal and make you whole, change your life and give you peace beyond understanding even in the midst of difficulty!

So when you catch yourself thinking thoughts that you know are not what the Word of God says, stop and ask God to correct your thinking.
When you feel pain from hurts you have suffered then give that painful emotion to the Lord and ask Him forgive For you. He will do it with perfection.  Ask Him what His perspective is about it. Then listen carefully and expectantly for Him to answer. Ask God to break down the strongholds within you.

Faith will bring you into a personal experience with God. Trust God and expect Him to answer when you pray to the Father in Jesus Name. Seek Him with all your heart and you will find Him and experience God. Peace will follow. Emotional Wellness is a part of the overall healing the Lord wants for you.

Emotional Wellness, having peace with God will cause us to have peace with others also. The Holy Spirit will lead us into a life of emotional control through the powerful God tool called forgiveness. Our soul will begin to prosper and we will flourish under Gods wings of protection.
Jesus came for you to have life and have it more abundantly. God wants you well in all areas including emotional wellness.
Beloved, I wish above all things that thou mayest prosper and be in health, even as thy soul prospereth.3 John 2 KJV
Angel Messenger
If you liked this page, go ahead, share it with others...

(Search results have targeted ads from Google not from this site.)
Search This Site with this Tool...
GodsWill-Wellness Site Search Tool:
Custom Search